What's the Best Pet Food for My Dog? Canidae CA-30 Real Salmon vs. Fromm Four-Star Salmon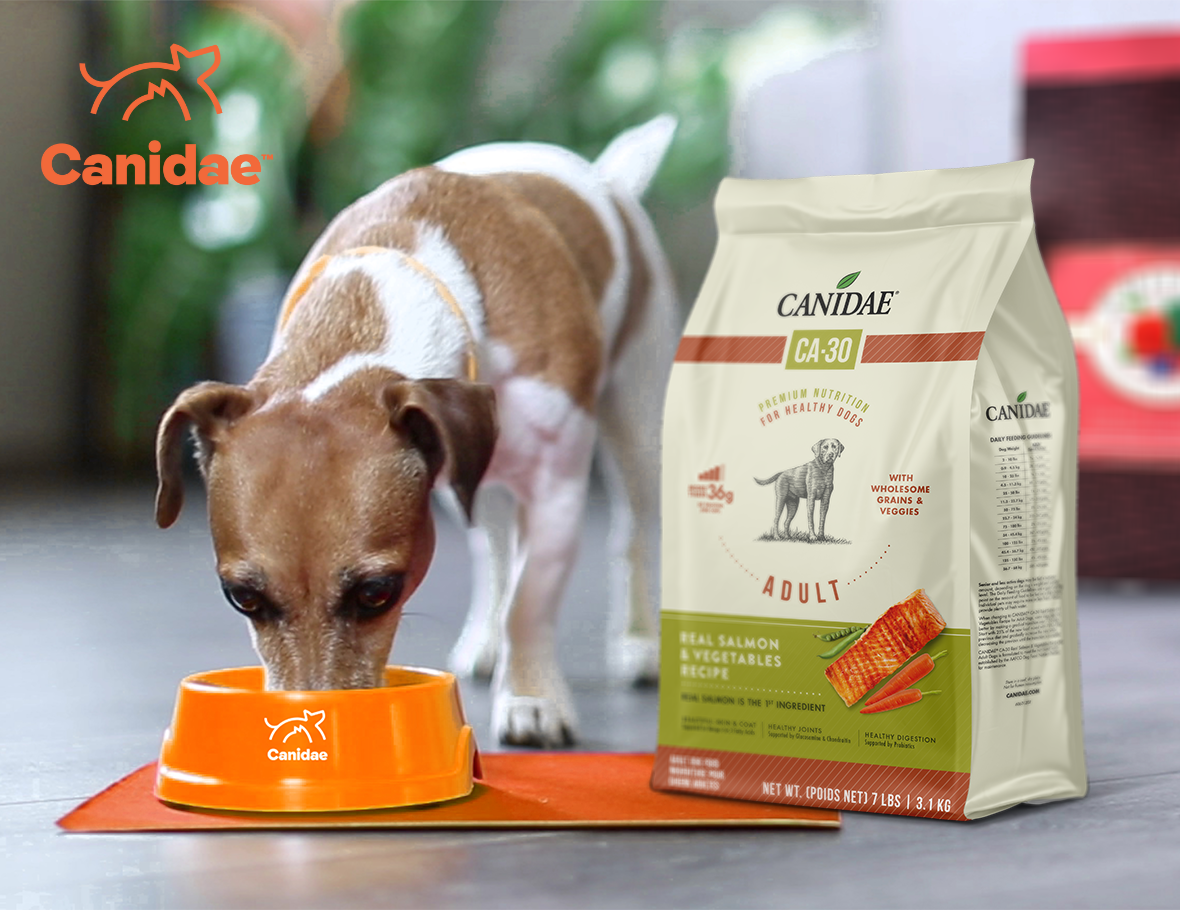 Canidae CA-30 Real Salmon & Vegetables Recipe vs Fromm Four-Star Salmon A La Veg
While pet food shortages mean it can be hard to find the right food in stores, when shelves are full it can feel like there are almost too many options!
How do you make the right decision? Can you judge a book by its cover or do you need to go deeper than the packaging?
This is the third in our series of dog food comparison posts, helping you compare Canidae® pet food with other leading brands, based on what really matters: specific nutritional criteria. If you want to read the first two, you can check out Canidae All Life Stages vs. Victor Multi-Pro and Canidae Pure Salmon & Sweet Potato vs. Merrick Salmon & Sweet Potato.
Here we're going to compare Canidae CA-30 Real Salmon & Vegetables Recipe with another leading brand, Fromm, who also use salmon as the main ingredient in their Four-Star Salmon A La Veg recipe.
Based on important nutritional criteria, we demonstrate Canidae's CA-30 Real Salmon & Vegetables expert-formulated pet food provides your dog with a more nutritious meal than Fromm Four-Star Salmon A La Veg.
Criteria for Comparing Canidae CA-30 Real Salmon & Vegetables Recipe and Fromm Four-Star Salmon A La Veg
Formula
Canidae's CA-30 formula has 12 key ingredients, while Fromm Four-Star has 26 key ingredients. Foods with fewer ingredients may be beneficial for dogs with food sensitivities.
First 3 Ingredients
These ingredients are listed in descending order by weight. Canidae CA-30 contains more salmon, menhaden fish meal and turkey meal than other ingredients, while Fromm has salmon, salmon meal and fish broth as the first 3 ingredients.
Protein Percentage
Canidae has a higher percentage of protein, 32%, versus Fromm's 25% per cup. This means with Canidae CA-30, your dog is getting a more protein-rich, nutritionally dense food.
Calories per Cup
Canidae CA-30 also offers a higher energy density than Fromm Four-Star.
CA-30 has considerably more calories per cup than Fromm (459 vs 395) which means you need a smaller amount of Canidae CA-30 to feed the same size dog.

Probiotics
Probiotics are very important in boosting your dog's digestive system. Canidae CA-30 provides guaranteed amounts of probiotics, whereas Fromm Four-Star doesn't give any assurances over the levels of microorganisms found in their food.
Chondroitin & Glucosamine
Glucosamine and Chondroitin Sulfate both help keep your pet's joints in good shape — which is why Canidae CA-30 offers guaranteed amounts. Fromm Four-Star doesn't make any guarantees about the two substances.
Vitamin C and Vitamin E
Vitamin C is an important antioxidant that can help reduce inflammation and cognitive aging in your dog. Vitamin E is an essential nutrient that promotes a healthy immune system and supports your dog's skin and coat. Canidae CA-30 offers guaranteed levels of both of these vitamins, while Fromm Four-Star makes no such promises.
Taurine
Taurine is an amino acid that helps support the functioning of a healthy heart in your pet. Once again, Canidae CA-30 is the only recipe that guarantees levels of taurine.
Omega-3 and Omega-6 Fatty Acids
Fatty acids like Omega-3 and Omega-6 help give your pet a glossy coat and healthy skin. Additionally, Omega-3 fatty acids support the immune system and may decrease inflammation. Canidae CA-30 contains guaranteed amounts of the two fatty acids, while Fromm doesn't make any commitments.
Finding the Right Food to Feed Your Dog
Canidae's CA range of pet food is formulated specifically to offer a healthy, nutritious diet with just the right amount of protein for your dog. Our recipes are formulated with a team of pet experts including a board-certified vet nutritionist to meet and exceed AAFCO standards. They contain no fillers and offer complete and balanced goodness for your best friend.
Canidae CA-30 Real Salmon & Vegetables Recipe easily outperforms Fromm on various levels of nutritional analysis. It's also more economical as you need less food to feed the same size dog. With premium proteins and recipes for less active, active and very active dogs, CA gives your dog just what it needs.
To find out which food is perfect for your dog, try out our free quiz.
Remember to gradually transition your pet to Canidae dog food.