Compare Pet Foods: Choose the Best Diet for Your Dog
Canidae Pure Salmon & Sweet Potato vs. Merrick Salmon & Sweet Potato
.
With thousands of dog food products to choose from today, it can be hard to know at a glance which brand or recipe is best for your pup's health and wellbeing.
We know you want the best for your pet, so we created a series of posts to help you compare Canidae® 's pet food products with other leading brands – based on specific nutritional criteria. This post will focus on Canidae PURE Salmon and Sweet Potato compared to another leading brand.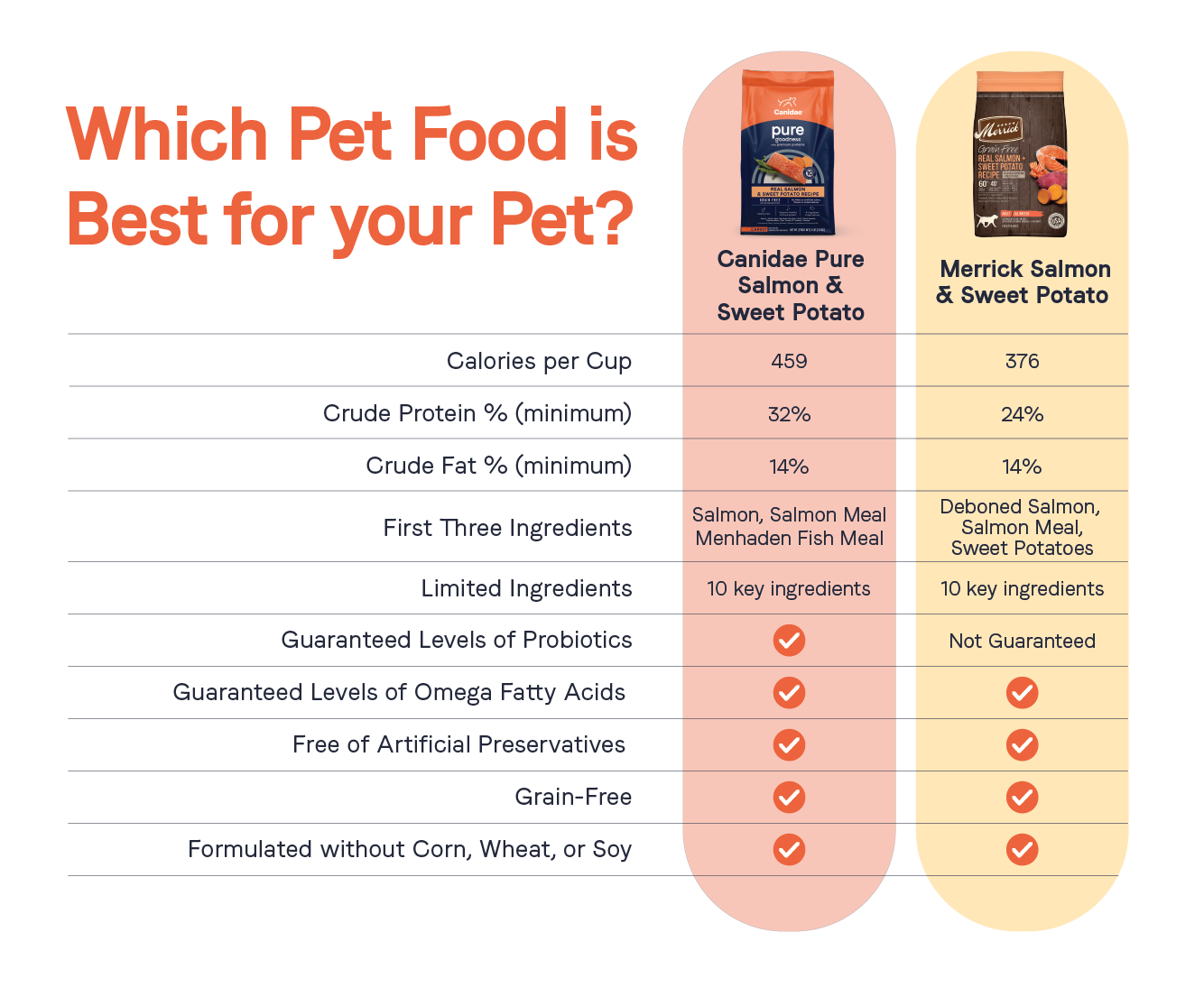 Why A Salmon-Based Diet is a Good Idea
Some proteins, such as salmon are very nutritious for dogs when prepared in the right way. Salmon is a great source of omega-3 fatty acids, which support the immune system, may decrease inflammation, and can keep your dog's coat looking shiny and healthy. It's also a good protein source. Undercooked or raw salmon, on the other hand, can be dangerous. Therefore, choosing a pet food formula from a trusted brand with salmon as one of the key ingredients is a very good start.
Now, check out our comparison of Canidae's Pure Limited Ingredient Grain-Free Dog Food With Salmon and Sweet Potato with Merrick Grain Free Limited Ingredient Dog Food With Salmon and Sweet Potato – based on several nutritional criteria, which explains why we believe Canidae's vet-formulated pet food overall offers your dog a more nutritious meal.
We always recommend you ask your veterinarian for dietary advice if you're uncertain about how best to feed your dog.
Also, remember that changes to your dog's diet should be introduced slowly – read our post for more information about how to switch your pet's diet safely.
Criteria for comparing Canidae Pure Salmon and Sweet Potato and Merrick LID Salmon and Sweet Potato:
Formula
Canidae's Pure formula has 10 key ingredients, of which the first three include pure salmon and other fish proteins. Merrick has 10 ingredients too. For dogs with food sensitivities, foods with fewer ingredients may be beneficial. Our product guarantees minimum amounts of essential fatty acids such as Omega 3 and Omega 6, as well as probiotics for added health benefits. Merrick has similar levels of Omega 6 and Omega 3 but doesn't guarantee probiotics.
First 3 ingredients
The ingredients are listed in descending order by weight. The Canidae recipe contains more salmon, salmon meal, and Menhaden fish meal than other ingredients, whereas Merrick lists deboned salmon, salmon meal, and sweet potatoes as their first 3 ingredients.
Protein percentage
Canidae has a higher percentage of protein – 32% vs. Merrick's 24% per cup – for this formula.
Calories per cup
Canidae Pure offers a higher energy density than its competitor product.
Canidae Pure offers considerably more calories per cup than Merrick, (459 vs 376) which means you need a smaller amount of Canidae Pure to feed the same size dog. The recommended feeding guide for a dog of 50 lbs is 2 and a quarter cups of Canidae Pure and 3 and a half cups of Merrick.
Life stages
Both products in our comparison are suitable for all dog breeds and sizes. The Canidae and Merrick products are both maintenance formulas for adult dogs
Guaranteed amounts of probiotics
Probiotics are very important to boost your dog's digestive system. As you see in the table, Canidae's Pure offers guaranteed amounts of probiotics, whereas Merrick does not add probiotics to their recipe.
Finding the right food to feed your dog
Canidae's range of pet food is formulated specifically to offer a healthy, nutritious diet for your dog. Developed in partnership with a board-certified veterinary nutritionist, each bite contains quality ingredients. No artificial flavors or preservatives are used, just wholesome goodness. Add to that Omega-3 and -6 fatty acids, probiotics and antioxidants, and vitamins and Canidae Pure is the perfect healthy diet for your pet.
Not only does our Canidae PURE easily outperform Merrick on different levels in this comparison, but it is also more economical as you need less to feed the same size dog. With premium proteins like lamb, venison, salmon, and bison and clean recipes with everything your dog needs and nothing they don't, Canidae PURE gives your dog the high-quality, nutrient-rich food they deserve. Choose from recipes like Salmon and Sweet Potato, Lamb, Goat and Venison, Real Bison, Lentil and Carrot, and many more grain-free and wholesome grain recipes.
Learn more about transitioning your dog to Canidae's delicious recipes today
ABOUT CANIDAE
Canidae was founded in 1996 with the belief that pet food needed to be better. Better for pets and better for us all. That belief lives on today in our mission to create a world of sustainable goodness for pets and our planet. We nourish pets and the planet in every bowl, through our use of wholesome, responsibly sourced proteins, and our investment in regenerative farming, sustainable operations, and eco-friendly packaging, setting a new standard for the pet food industry. Everything we do results in a better product. A bowl full of goodness.