Is Thanksgiving Food Safe for Dogs and Cats?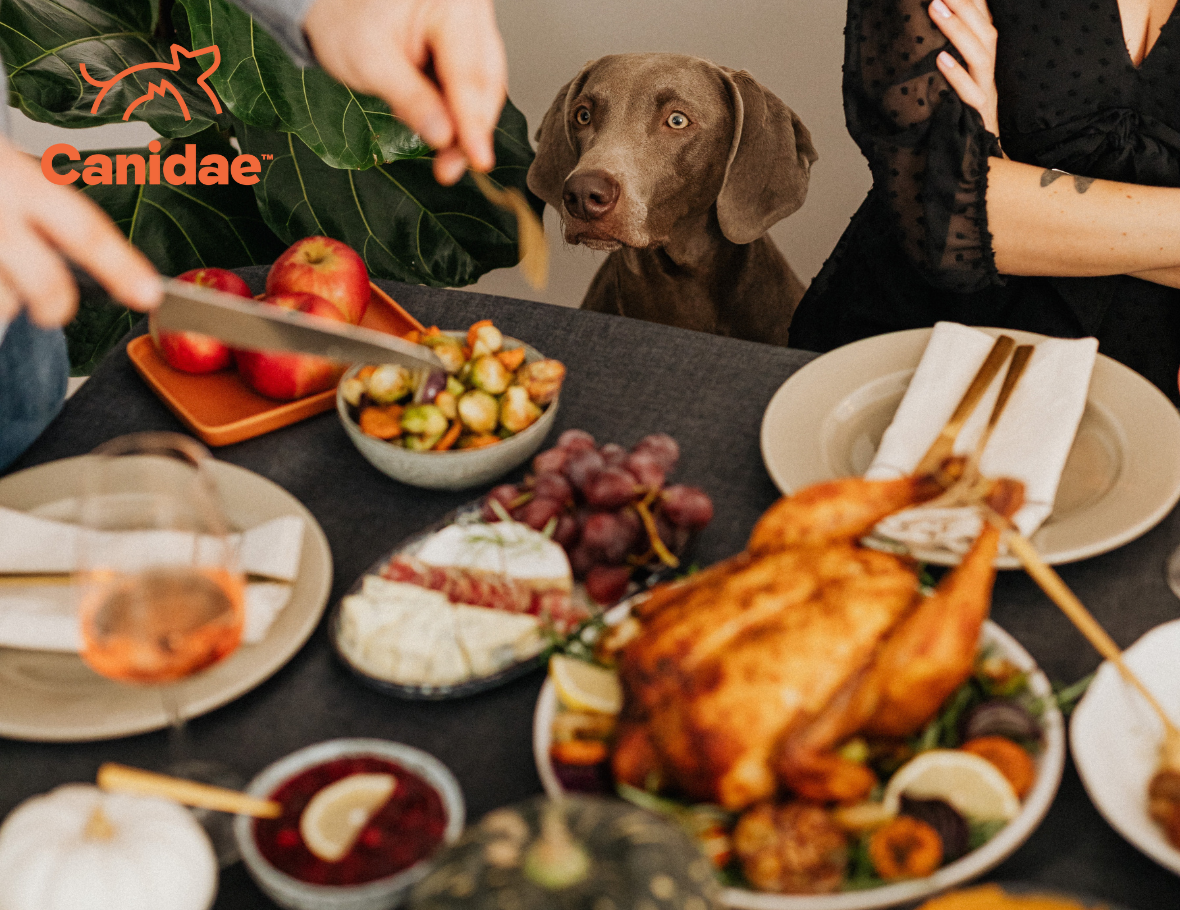 Thanksgiving is the perfect moment to connect with your family, take stock of what you're thankful for, and eat lots of food! Your pet is part of the family, so naturally, you'll want to share this delicious food with her. That's why it's important to ask, is Thanksgiving food safe for dogs and cats?
What Thanksgiving Foods Can Dogs Eat?
As much as you'd love to indulge your cat or dog, your pet's health should always come first and not all human foods are safe for pets. In fact, many human treats may be toxic for dogs and cats.
Even a small piece of some foods can cause havoc with your pet's digestive system and could lead to an upset stomach, diarrhea and a serious condition known as pancreatitis.
To avoid emergency trips to the veterinarian, you need to know what you can and can't feed your dog from the Thanksgiving feast. What's more, overindulging in the family feast is even worse for pets than for pet parents, so be sure to keep even healthy treats to a minimum. While an overweight dog may look cute, the effects of obesity on her body are no laughing matter.
The good news is that there are simple ways to include your pet in your Turkey Day celebrations. Here are some foods that can be safely shared with your pet:
Vegetables and Fruit
You can feed your pet healthy vegetables and fruits such as:
Peas
Pumpkins
Green beans
Potatoes
Apples (but avoid apple seeds as they can be toxic in large amounts)
Cooked vegetables are fine, as long as they don't come with any gravy, cream, butter or other trimmings. The vegetables shouldn't contain added ingredients or spices and should always be given in moderation.
Turkey
A small amount of turkey — provided it's well-cooked and boneless — can be a good source of lean protein for your pet. Only give your pet turkey meat and avoid any bones, fat, garlic, onion or butter.
Special Pet Desserts
Desserts for humans are totally off-limits, so no pumpkin pie for your pooch this year. If you really want to give her a sweet treat, frozen yogurt could be a good alternative.
What Thanksgiving Foods Can Cats Eat?
The list of food safe for your cat is the same as for dogs, but remember to feed your cat suitably sized portions.

Thanksgiving Foods That Can Be Dangerous for Pets
Turkey bones and the carcass: These may cause digestive issues.
Turkey skin, stuffing and gravy: These are too fatty for pets to digest.
Onions and garlic: These are toxic to both dogs and cats and ingestion of significant amounts can cause anemia.
Mashed potatoes: These usually contain butter, which is high in fat.
Cake, bread or dessert: The batter for dessert often contains raw eggs, which again could be a salmonella risk. Ingestion of yeast dough can cause uncomfortable bloating and gas which could be life-threatening.
Chocolate and sweets: Keep these well away from your pet. Chocolate, particularly baking chocolate, contains theobromine — a caffeine-like ingredient that can be dangerous for your pet. Also note, the artificial sweetener xylitol — often used in gum and sugar-free foods — can be deadly for dogs. Cranberry sauce is another no-no for your pet.
Alcohol: Just a few sips from an unattended glass of wine could be really harmful to your dog or cat. Also watch out for scraps from the table that could contain alcohol, such as fruit cake.
Trash: Remember to keep scraps, including the turkey carcass and meat and other leftovers, well out of the way of curious pets.
Plants and decorations: Some festive plants and flowers may also pose a risk to your pet's health. These include amaryllis, lilies, ivy, and other types of flowers and plants.
What Are Signs My Pet May Have Eaten Something She Shouldn't Have?
Watch out for vomiting, diarrhea, choking or any other sudden changes in behavior. These are all symptoms that should not be ignored.
What to Do if You Suspect Your Pet Has Eaten Something She Shouldn't Have?
Even if you've been super careful, there is always a risk your pet may eat or drink something they shouldn't. Your quick reaction here could be the difference between life and death. If you suspect your dog or cat may have eaten something toxic, call your local veterinary clinic, emergency clinic or the pet poison helpline immediately.
The best way to be 100% certain your pet is not eating anything she shouldn't is to give them healthy, nutritious, cat-and-dog-friendly food, plus treats that are specially designed for pets.
At Canidae® your pet's health is our priority. For example, Canidae All Life Stages Dry Dog Food: Multi-Protein Chicken, Turkey, and Lamb Meals is vet-formulated to meet your dog's needs, no matter her age, breed or size. This nutritionally dense food nourishes with every bite, and contains essential amino acids, antioxidants and probiotics.
If you want to treat your pooch to some tasty turkey this Thanksgiving, try our Sustain Bone Broth Topper: Premium Recipe with Cage-Free Turkey with Rice and Carrots or Sustain Wholesome Pate: Turkey Recipe — which even contains cranberries! These delicious slow-cooked recipes use responsibly-sourced ingredients to provide premium flavor.
We also have a variety of cat food formulas to keep your feline friend thankful on and around Turkey Day. Balanced Bowl Wet Cat Food: Salmon & Sweet Potato Recipe is inspired by healthy, home-cooked meals and made with high-quality proteins and vegetables in gravy. This vet-formulated wet food can be used as a meal or mixed with kibble as a topper.
If you're not sure which of Canidae's recipes is right for your dog or cat, try our quiz.
Think about transitioning your pet to Canidae's delicious recipes today!