5 Incredible Therapy Dog Stories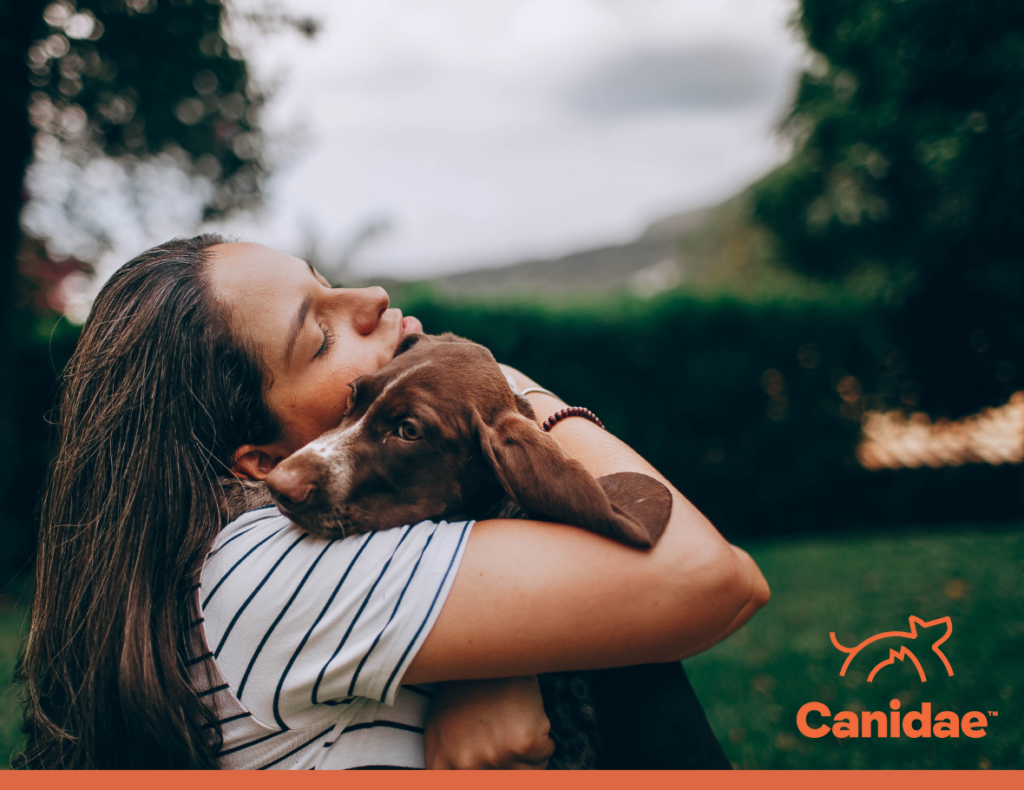 Here at Canidae®, we firmly believe that mental health should not be ignored. To celebrate Mental Health Awareness Month (plus National Therapy Animal Day on April 30th) we're revisiting our collaboration with Alliance of Therapy Dogs (ATD).
As well as pledging $20,000 to the fine folks at the ATD and encouraging Canidae customers to certify their dogs, we've become close partners in our shared passion for goodness for pets, people and the planet.
"Canidae is committed to pets, people and the planet. ATD is committed to bringing the human-animal bond to those who need it most. When two companies' missions align so well, it's a partnership that allows for a collaboration of smiles and joy within the Cycle of Goodness." — Kim W, Alliance of Therapy Dogs President.
While we've previously looked into what therapy dogs do (and the difference between therapy dogs, service dogs and emotional support animals), we thought what better moment to hear some real therapy dog stories from their proud pet parents.
These stories are just a few examples of the many incredible stories that have been shared with us. It's clear just how much goodness these amazing dogs spread to all of the people they encounter in their lives. We love supporting the Alliance of Therapy Dogs to make sure more and more dogs are able to share their gift in this way.
(Find out more about our Cycle of Goodness and learn how to certify your pet as a therapy dog, here.)

Elsa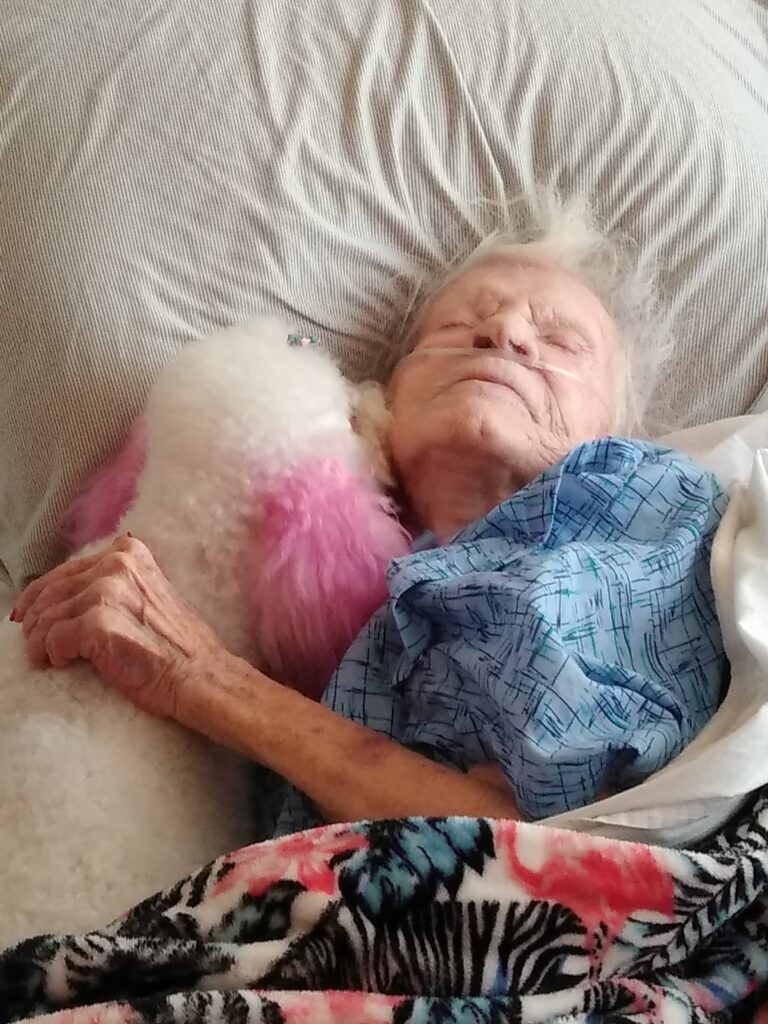 This heartwarming story was told to us by Sharon, who let her dog Elsa go and work miracles:
"We volunteer at a local hospital and some nursing homes. One day at the hospital, we knocked on the door of a room and asked the family inside if they would like a visit from a therapy dog. When we entered the room I noticed the lady in the bed was asleep, so I asked if they were sure they wanted us to come in. They didn't hesitate to tell us yes and added that the lady loved dogs but had been in a coma for several days.
They asked if I could put Elsa on the bed beside her. I lifted Elsa onto the bed and not long after the lady lifted her fingers and started rubbing Elsa's foot. I was shocked and looked at the family who were also stunned by what had just happened.
They then asked if I could move Elsa to the other side of the lady and let her lay closer to her face. So I moved Elsa and she gave the lady the smallest little lick on her cheek. I'm still trying to process what happened next: The lady quickly opened her eyes and began to speak. We couldn't understand what she was saying but she was telling us something.
I looked over at the family and they were crying and in shock. They couldn't stop thanking us and before we left we all took a photo together.
Elsa loves doing visits and seems to have a sixth sense for knowing what people need, but this moment was particularly special. "
Takoda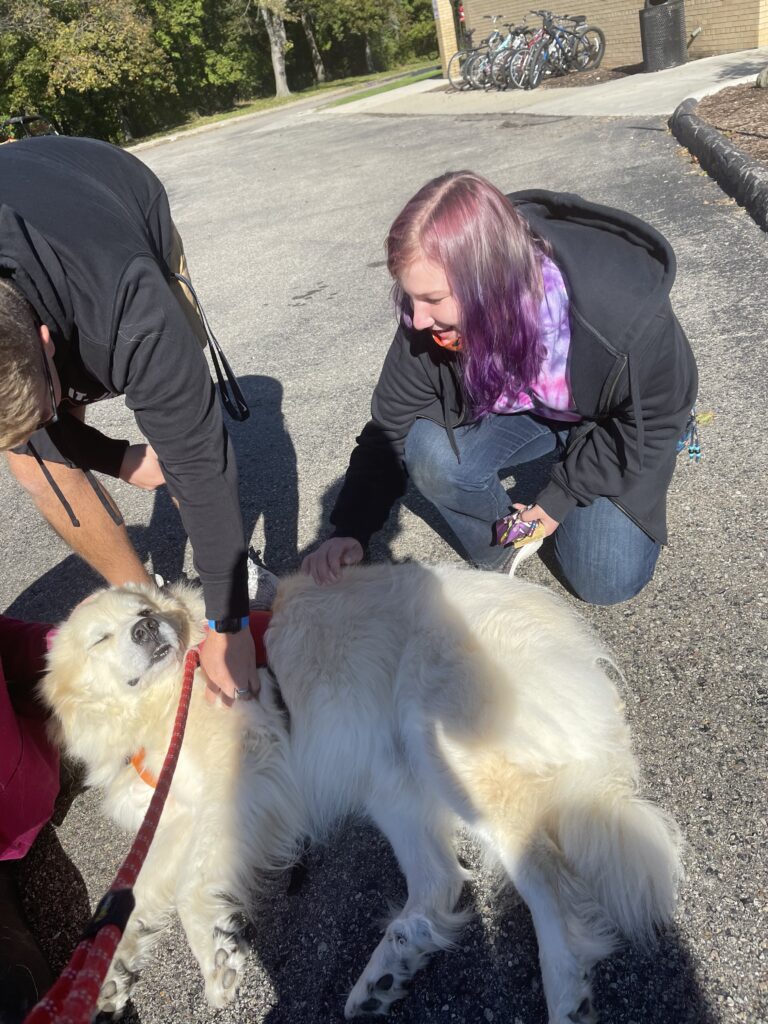 Erin told us this fantastic story about Takoda, a beautiful Great Pyrenees rescue (fun fact: this breed has double dewclaws!):
"We rescued Takoda after he was found in a ditch by police in Georgia. He had been shot with a shotgun and wasn't in a good state. After he had surgery on his leg we adopted him, but he still had shotgun pellets inside his body. One day after not too long, Takoda was very sick. We had to rush him to the veterinarian and he had emergency surgery to put a pin in his leg. The next few months weren't easy for him, but he persevered, did his physical therapy and was eventually fully healed.
Four years later, Takoda is in great spirits. He recently got certified as a therapy dog and has been helping out at the university. Students are under so much stress right now and he just loves to bring them comfort and joy. You can see the real impact he's having on their mental health.
The name Takoda means "friend to all" in Sioux and this sums him up perfectly."
Moose
This touching story from Carol has more twists and turns than a roller coaster:
"My daughter is quite the entrepreneur and started her own pet sitting business at age 9. Years later, one of the dogs she regularly looked after couldn't be taken with his owners when they moved away. He was going to be taken to the animal shelter, but we weren't ready for a new dog so soon after our best friend of 13 years had passed away. We couldn't let him be taken to the city pound though, so we agreed to take Moose until we could find him a good home. 4 years have now passed and he has certainly found his home.
We realized early on that he loved people and had amazing intuition, so we got him certified by the ATD (he's a quick learner and passed his classes quickly!). Soon, the staff and patients at our local cancer center were looking forward to seeing him weekly. He was also loved by those at an elderly and disabled apartment complex, as well as by the students at the local university where he gave so much support, especially around finals time. He's such a kind, gentle and giving dog that he would come home from these visits completely exhausted but would always be ready to go again.
Unfortunately, life is never simple and I had to have bilateral knee replacements. Moose intuitively knew what to do: he would come to physical therapy sessions with me and very quickly caught on to how he could assist me. I also have a vision disability which Moose, on his own, learned how to help me with. We springboarded from here with more specific training, and after hours and hours of work, Moose is now a service dog as well as a therapy dog.
During the early stages of the pandemic, Moose couldn't make therapy dog visits so we focused on his service dog training. Now things are loosening back up, we are making more therapy visits and Moose seems to have no issues switching back and forth between his duties.
He flies with me and is a hit with the airline staff, just as he's a hit wherever he goes. He always seems to know who needs a visit and his calm demeanor draws people to him. You can see any anxiety and worries just melt away when Moose leans in to say hello.
Moose has accomplished so much, is so willing, and only wants to please. He truly is a gift from God."

Frankie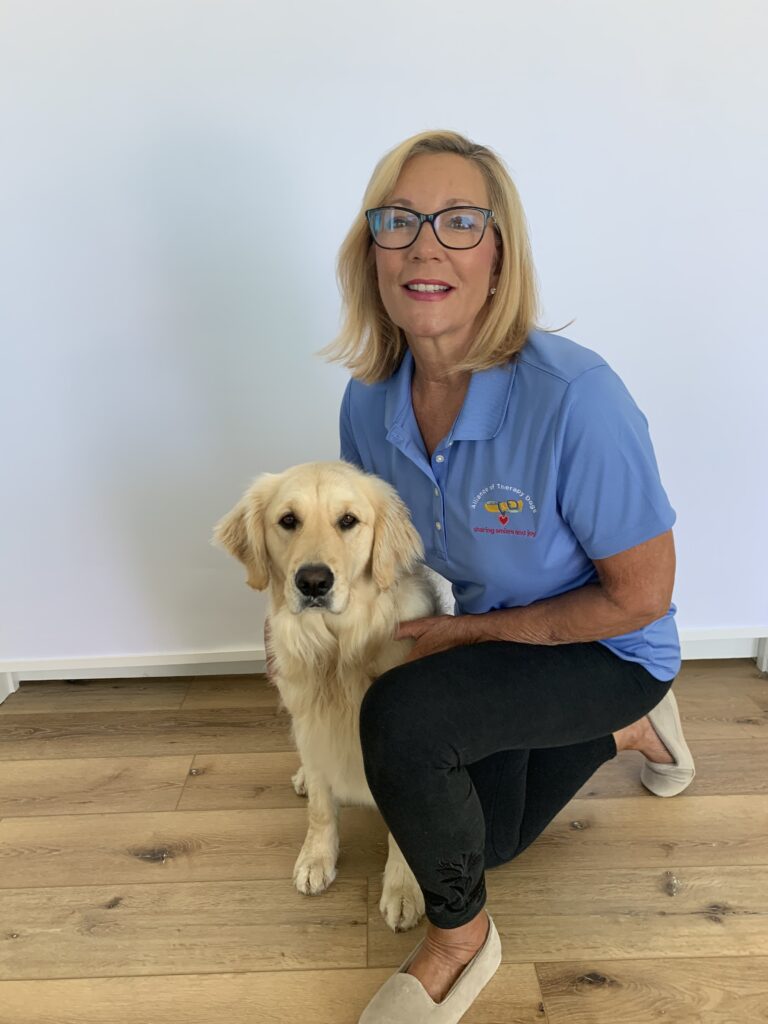 Susie told us this moving tale about her three-and-a-half-year-old Golden Retriever, Frankie:
"Throughout the past year, we have been visiting a nursing home and have gotten acquainted with the residents. While everyone looks forward to our weekly visits, one resident stood out: Jean. Jean was in hospice care and didn't have the strength or desire to leave her room. She was isolated from the other residents and ate all her meals in her room by herself unless a family member visited at mealtime. Jean was so happy when we would visit her and would talk to Frankie while constantly petting her. Frankie performed tricks for Jean that would make her smile and laugh.
We showed up one day to visit Jean and she was excited to show me her new red electric scooter her family had bought her. Jean was now able to leave her room and take her meals in the dining room with the other residents. She told me she was really excited about being able to take a walk with Frankie through the hallways. So that's how our new weekly routine started: We'd arrive to see Jean waiting patiently for Frankie to arrive and for the walk to begin.
A couple of months later, Jean's daughter was waiting for us at the front lobby. She thanked us for visiting her mother, and told us she felt like she already knew us due to how much her mother spoke about us! She started to tell us that Jean had had a rough night and wouldn't be able to walk with us, and asked if we could visit her in her room instead. Before I had a chance to reply Jean came around the corner in her red scooter. Her daughter was amazed she was up and out of her room. Jean's response was, "I never miss a chance to take a walk with Frankie!"
A few months later, I missed our weekly visit due to having Covid. A couple of weeks later I called the nursing home to tell them that I was feeling better and would be back the following week. It was then when they told me that just two days prior Jean had passed away in her sleep, with her family beside her. Earlier in the week Jean had asked about Frankie and said she missed her visits and was hoping we'd come by soon.
I was totally taken aback, our visits had such a positive impact on her life. They gave her a reason to get out of bed, get dressed, and interact with her fellow residents. Frankie and I made Jean a little happier near the end of her life. I am honored to have known Jean, and so grateful for the time we had together. Who knew my life would become so enriched because of Frankie, my best fur friend."
Hubbert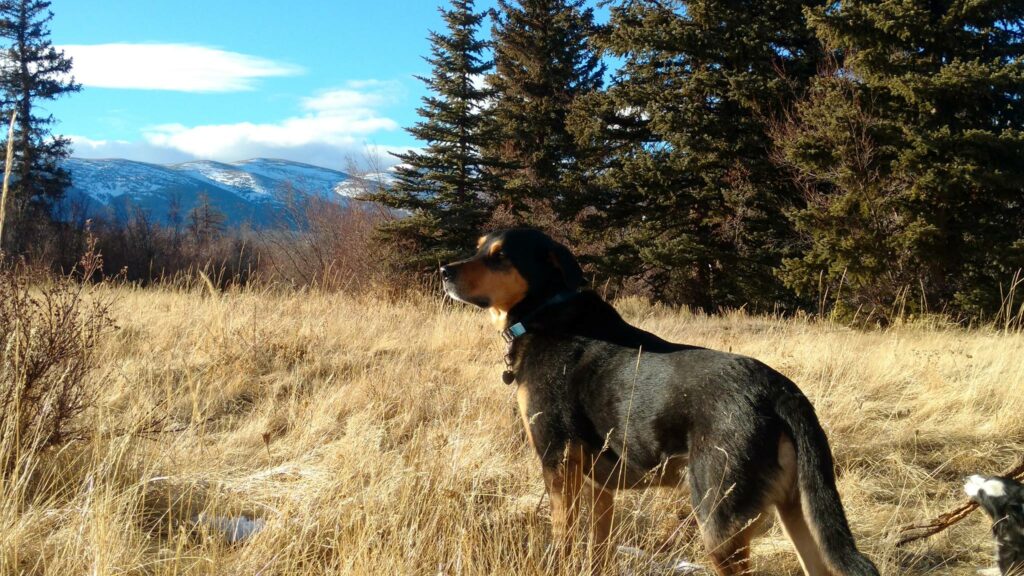 Jesslyn talks us through the life and times of her Rottweiler German Shepherd mix, Hubbert:
"I first met Hubbert in late spring 2013, when he was a 3-year-old pup at the local animal shelter where I was working. He had been through three different homes because he suffered from separation anxiety. He would cry loudly if left alone, wouldn't eat and would occasionally destroy household items.
The shelter struggled to find a foster home for Hubbert and he continued to cry for days on end and lose weight due to not eating. His stress was very visible! We had to hold a meeting about his well-being and before I knew it the words "I can foster him" escaped my mouth. I owned three stable dogs at the time but could see something special in Hubbert and had to give him a chance.
Over that next year, Hubbert thrived. He had a kind soul but loved to chase toys and balls and run through the hayfields following his dog friends. He found peace when sleeping on the bed or with his trademark position of resting his head in your hand.
In spring 2016, a tragic accident happened to me. I was heartbroken, depressed, and inconsolably crying. This was when Hubbert shined! He had a natural ability to know when I needed his head on my lap, a pal to listen, a snuggle friend, or his floppy ears to wipe away my tears. His quietness and care could be felt and he helped me travel through the grief and move forward to see the positivity in my life.
After that it was evident: I needed to share what he did for me with others! Hubbert would be an excellent therapy dog. By December 2016, Hubbert was certified by the Alliance of Therapy Dogs!
For the next five years, Hubbert became a pillar in our humane education program. We ran this program in different elementary, middle and high schools and he assisted in teaching hundreds of school-aged kids valuable lessons about animal behavior and body language, the role of animal control, the animal shelter and pets' needs.
As a uniformed Animal Control Officer, Hubbert enabled me to make positive connections with many kids. However, one elementary-aged child was horrified by a person resembling law enforcement. While he was visibly upset at the sight of a uniform, he really wanted to meet Hubbert. Eventually, his desire to pet Hubbert became his only thought. He approached us and was able to have a positive conversation and interaction with me. He even gave me a hug before we left! Without Hubbert, this would not have been possible. The schools looked forward to Hubbert's visits, the classrooms were filled!
Hubbert continued to show how special he was and share his goodness. His calmness was felt in the summer of 2018 when the Weston Pass Fire raged through where we lived and displaced us, and in 2020 during the course of my divorce. He provided a sense of normalcy and helped me understand the importance of the word family.
Hubbert made so many connections thanks to his wonderful disposition, friendly nature and ability to recognize people who were hurting. He could always find the goodness in people, and watching him gave you the desire to believe in people too. Looking into his eyes, he knew how special he was.
In June 2021, I was there to return the comfort to him as he passed in my arms. I knew I could be there for him because of everything he did for me. I miss him, our humane education program misses him, and all who knew him, miss him.
He left a lasting, positive mark in his 12 years on Earth. Seeing him interact with people made you want to be good and kind to others. He was a very special dog that will not be replaced but remembered for his ability to help people get over the walls of grief, hurt, anger and sadness. I was so thankful to have Hubbert in my life."