Why Does My Dog Dig in the Carpet and Furniture?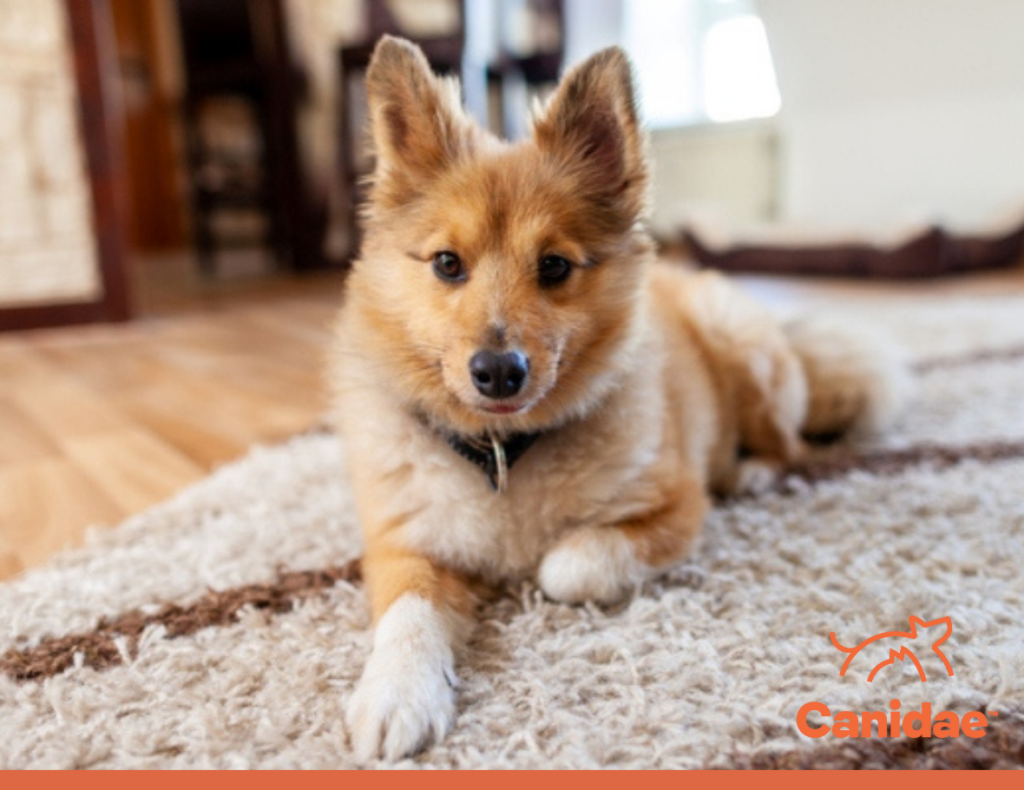 The first time you caught your dog in the act you might have chuckled, then shaken your head with a wry smile on your face. Just another of those strange quirks of the animals we love so dearly.
While it may be amusing at first, this destructive behavior can ruin your carpet and furniture. On top of this, your dog's scratching may also cause their paws to become raw and sore, and this is when you may have to think about behavioral intervention.
There are several factors that contribute to why your dog is digging on furniture and carpet. Join us as we explore a few of them and suggest some potential solutions.
Searching for Food
Dogs are just built differently — they have up to 300 million olfactory receptors (which help to detect smells) in their noses, compared to about six million in humans.
Dogs' noses are so powerful they can detect substances at concentrations of one part per trillion, or to help you picture it more clearly — a single drop of liquid in 20 Olympic-size swimming pools. Needless to say, if there are any food crumbs, or even a speck of their favorite CANIDAE® dog biscuits in the carpet, they will sniff it out, and turn that spot of the carpet into their personal "digging zone".
Solution: Ensure that any human or dog food is consumed away from the carpet, and any food waste is cleaned thoroughly from carpeted areas — electronic vacuum cleaners work even better than the canine version!
Making a Nest
Sometimes your pet will circle and scratch at a spot, before slumping down to sleep in it. This is nothing to be overly concerned about, nesting is instinctive — long before dogs were given soft beds by their human companions they would have to find somewhere outside and make it as comfortable as possible before sleeping.
Solution: Trying to make a nest is just part of a dog's natural instinct, however, if it is causing damage to carpet or rugs, give them a better alternative. Make sure your dog has a comfortable bed to snuggle up into for when she's ready to snooze.
Interesting Smells
Have you ever noticed that look on your dog's face as he compulsively sniffs, trots along and wags his tail? According to a study, dogs have a penchant for new and novel smells — and this is called neophilia.
When humans get home after a long day, we might be mildly curious about any new smells, but unless it's something really strong we probably won't investigate. As we all know, our dogs are a different species entirely. Your pet is naturally curious and will be compelled to investigate every new scent with the persistence, but perhaps not the restraint, of a young Sherlock Holmes.
Solution: Take your pet on regular "scent walks". According to Alexandra Horowitz, author of Being a Dog: Following the Dog Into a World of Smell, "a scent walk changes the focus of the walk from miles covered to odors logged," which means as a pet parent you'll probably have to switch your mindset a little.
Instead of having a specific destination, the route of a scent walk meanders as your dog absorbs and processes the scents along the way. By allowing your dog to get their sniff fix when they're out and about you should see a decrease in bad behavior at home.
Hiding Things
Give the dog a bone? They might just hide it. It's in a dog's nature to bury or partially bury food, chew bones, toys and prey. This digging behavior was once key to the survival of wild dogs, as they didn't know when they were going to have their next meal. They also frequently hunted for burrowing animals and would dig holes to chase after them.
While your pet may be thankful to have a loving home and to be fed two square meals a day, sometimes their instincts rise to the surface. Just like herding, hunting and tending, burying resources is part of a dog's natural instinct, and some dog breeds exhibit this more than others.
Solution: When giving your dog treats inside, try giving them something they can eat instantly, instead of something they are likely to bury for later.
Remember that even though dogs' wild ancestors ate carcasses (bones and all), you should avoid feeding your dog bones. Instead, give them an appropriate amount of their favorite Canidae dog food twice daily.

Boredom
Ever found yourself wishing for the simple life your dog has? Home comforts, all meals provided and no need to go to work — sounds good, right? Unfortunately, it's not so simple. According to the American Kennel Club, dogs were bred to have different jobs, however, these days, most dogs get to enjoy a catered lifestyle, minus the work. This, paired with spending hours alone while we are out of the house leads to doggy boredom.
Boredom can lead your dog to resort to excessive chewing, barking, digging, and other destructive and attention seeking behaviors. Punishing your dog in these instances is not the answer. There are many ways to tackle your dog's boredom problem, including physical exercise, mental stimulation, training, socialization, and mealtime games.
Tips to
Stop Dogs From Digging
Inside
If repeated digging is causing holes or threadbare areas in your carpeting and furniture, it's time to put a stop to it, and with some simple steps you can help shift your dog's focus elsewhere.
Start by distracting your dog from what they are doing. Don't scare them, but deter them from digging. Begin by calling your dog's name to get their attention or making a loud sound that will cause them to stop.
Give your dog other activities to focus on, such as playing a ball game. You can use this time to reinforce other training, for example learning to come and sit on command.
The point is to distract your dog and reinforce other, more positive behaviors. Give your dog praise and rewards when it switches from its digging spot to another activity. Our handy guide to training your dog with healthy treats is a great place to start.
Our CANIDAE® All Life Stages Bakery Snacks are made with 7 nutritious main ingredients for healthy dog treats with irresistible taste. They're designed to break in half easily — making treating or training a snap for dogs of all life stages, breeds, and sizes. Their crunchy texture also helps clean your dog's teeth. Go ahead, enjoy some well-deserved time with your dog knowing that you're giving them a great-tasting oven-baked snack.
No matter what reason your dog starts digging, give them some stability and think about transitioning to Canidae today.