The Many Benefits of Dog Food with Salmon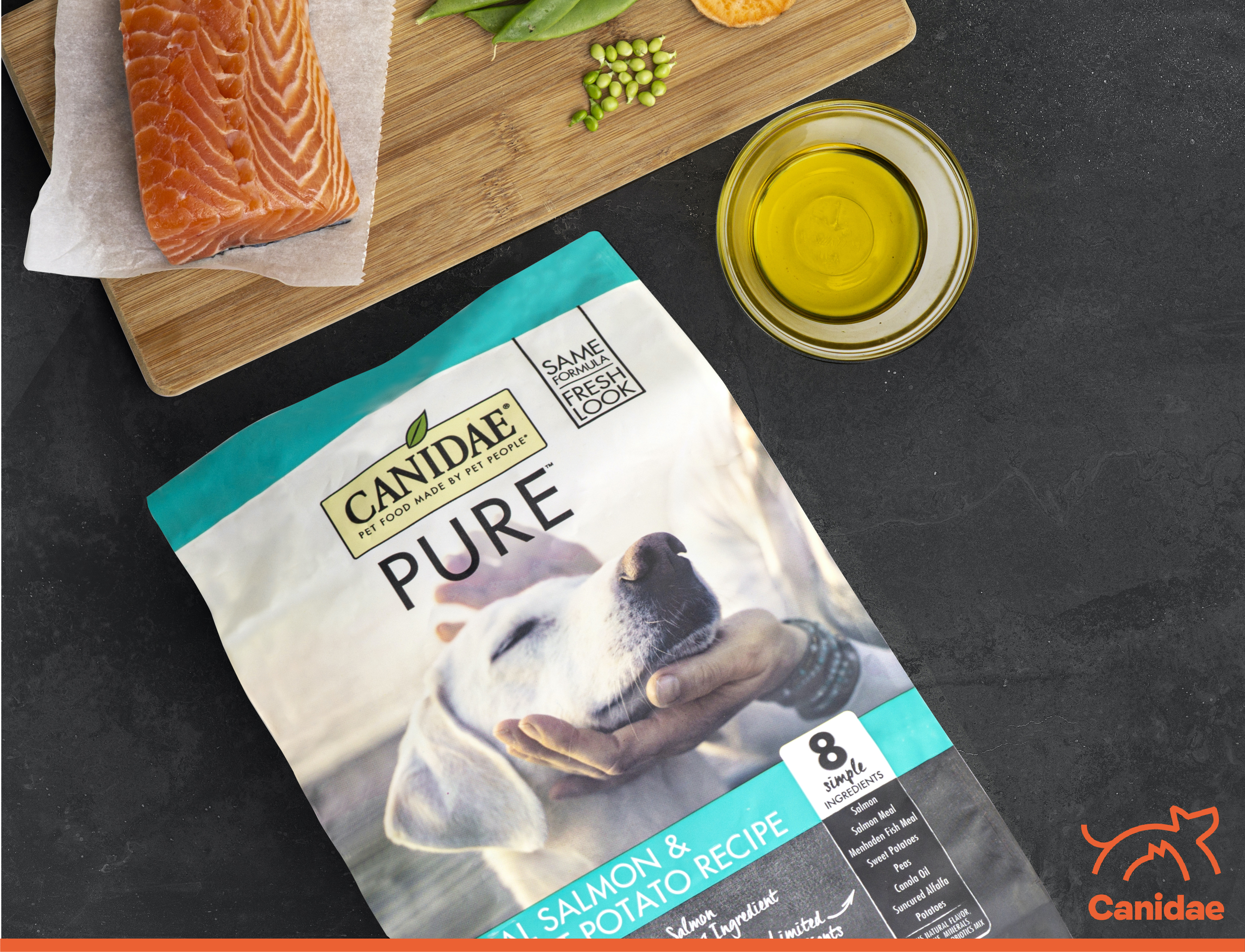 Is Salmon in Dog Food Good for Dogs?
For humans, salmon is a well-known, excellent source of omega 3 fatty acids which improves brain health, the immune system and also reduces joint inflammation… but do dogs benefit from salmon as well? The short answer is yes! Salmon is a popular protein among dog owners and a commonly used ingredient in dog food. And, why wouldn't it be? Salmon is an excellent source of protein, low in fat, rich with omega oils, vitamins, and minerals. Dogs have a highly developed sense of taste and smell and will love the fishy Umami taste of salmon. Few dogs are allergic to fish, which makes it great meat for dogs suffering from food allergies. There are a couple of nutritional matters to watch out for with fish, however, and you should always check with your pet's veterinarian to see if salmon is right for your dog. We dive into all this, and more for you below.
The Benefits of Dog Food with Salmon
The health benefits of including salmon in a human's diet are widely known and accepted, but, did you know that salmon may work wonders for our pets too? Your dog might benefit from the omega fatty acids from
salmon in many ways, including:
Reducing inflammation 

Improving your dog's

skin and coat

health

Helping provide relief for certain

skin allergies

 

Aiding in the treatment of

Inflammatory Bowel Disease

Improving collagen production

Improving brain development in fetuses of pregnant dogs and puppies

Promoting heart health 

Lowering blood pressure 

Controlling hyperlipidemia

Slowing cancer cell growth 

Promoting healthy weight loss in overweight dogs

Benefitting dogs with kidney disease

Improving cognitive function in older dogs

Reducing joint inflammation in older dogs
What to Look Out For
While
dog food with salmon
can have many benefits, it can be dangerous if not prepared correctly. Make sure that you avoid the following when feeding your dog their next salmon dish.
Salmon bones can irritate the esophagus, and cause choking and damage to the digestive system. Always ensure that you are feeding your dog fresh, well-cooked, and
deboned salmon.
Dogs can enjoy salmon from a can, however, it is advisable to buy canned salmon soaked in water rather than in brine or oil, as the high salt and oil content can be harmful. If feeding your pet salmon that has been cooked for humans, be sure to check that it is not cooked with garlic, onions, oil, salt, pepper, seasonings or any other foods.
As always, your dog should enjoy everything in moderation.
Overfeeding your dog salmon may result in complications such as pancreatitis.
While this may sound a little daunting, don't forget that it's easy to feed your dog salmon safely − giving your dog all the fantastic benefits without giving you any of the worry.
The safest way to feed salmon to your dog is with high quality, vet-formulated
dog food with salmon
, so that you can be sure they get both the nutrition and flavor they love
.
Our Dog Food with Salmon
We boast a range of dry and wet salmon-rich dog food to suit your pet's needs, whether it be our
salmon and brown rice dry dog food
for
adult dogs
,
salmon and oatmeal dry dog food
for puppies, or our
grain free wet dog food with salmon and sweet potato
 for dogs with sensitive stomachs.
Feeding foods rich in omega 3 fatty acids like salmon provides DHA required for proper brain and vision development in puppies. It also enables older dogs to concentrate better, especially those that are becoming a little senile in their old age! Additionally, senior dogs will enjoy the anti-inflammatory effects that omega fatty acids may have on their joints. A diet including salmon can have benefits for dogs of all ages and can help keep your dog healthy and active. 
Our
limited ingredient
 dog food is cooked and formulated to meet the nutritional levels your dog requires to remain happy and healthy. Our
dog food with salmon
blends are rich in
omega 3 fatty acids
, promoting a healthy heart, skin and a
shiny coat
for your dog.
The Taste Your Dog Will Love
Feed your dog's wild side with Canidae. Packed full of
natural flavor
and real, goodness-first ingredients such as real salmon meal, menhaden fish
meal, peas
, and sweet potatoes. Our
salmon recipe
contains many vitamins including A and D,
choline chloride
,
pyridoxine hydrochloride (vitamin
B6),
riboflavin supplement
, natural extracts such as
rosemary extract
, healthy minerals like zinc from
zinc proteinate
, iron from ferrous sulfate, potassium and chloride from
potassium chloride
. These wholesome ingredients contribute to a well-rounded, well-balanced diet. Our vet-formulated pet food is formulated to meet the nutritional levels established by the
AAFCO Nutrient Profile
s
.
Each bag of our pet food is fortified with HealthPLUS Solutions - probiotics for a healthy digestive system, antioxidants for immunity and omega fatty acids for skin and coat health.
Our foods help to promote long-term health by giving dogs the complete and balanced diet they need to lead a healthy life. Our all-goodness, no-filler, and thoughtfully curated recipes contain no artificial flavors or artificial preservatives, just pure, wholesome ingredients. Check out our handy guide to see how you can gently
transition your dog to a Canidae diet
today, and start giving them the benefits of salmon with every bite!