Our Cat Food Just Got Better: The Lowdown on Our Updated Recipes and Packaging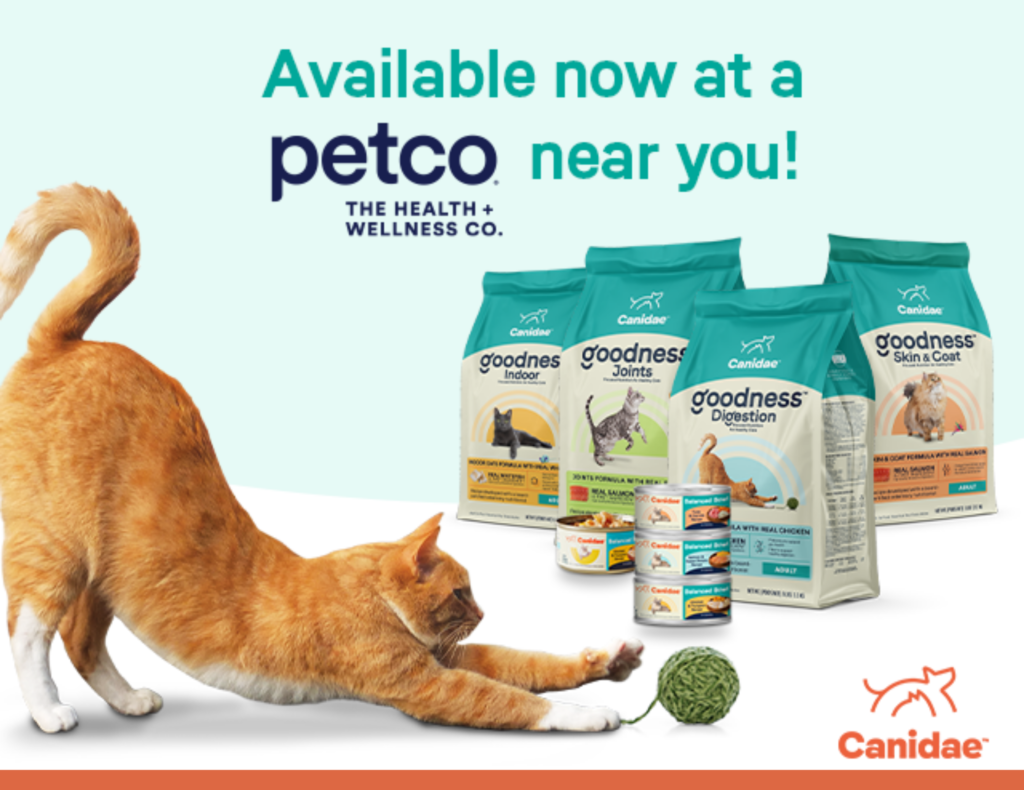 Every cat looks different, acts differently and has its own unique needs, so a one-size-fits-all attitude to feeding them doesn't make sense. It's important to take certain things into account when deciding which food to feed your feline.
As cat lovers, we're committed to feeding your cat the goodness they deserve by crafting recipes designed for whole-body health made with the best ingredients. Our mission is to provide goodness to pets and the planet, adopting regeneratively farmed ingredients and sustainable packaging solutions.
Join us as we give you the lowdown on our recently enhanced and diverse line of cat foods — from wet to dry, poultry to fish, a focus on digestion or fur, and lots, lots more.
Canidae Goodness for Cats
Canidae Goodness offers health-first diets formulated with proven ingredients to support healthy cats. Each diet was developed with a board-certified vet nutritionist, has real poultry or fish as the first ingredient and is made in the USA.
What's more, with Goodness, every bite has been precisely fortified with HealthPLUS Solutions® — guaranteeing nutrients, antioxidants and probiotics that are carefully balanced to support your cat's overall health.
And because variety is the spice of life, we've got four delicious options for your cat — each one with a different focus but still packed full of face-licking flavor and nutrients.
Goodness for Digestion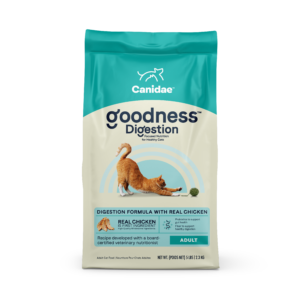 If you're a healthy cat, then eating is pretty easy, especially if your pet parent is giving you delicious Canidae food. Unfortunately, for some pets, digesting can be a little bit more complicated. Made with real chicken, probiotics, fiber, and other digestible ingredients, Goodness for Digestion assists the process and is formulated to support healthy digestion in cats.
Canidae Goodness for Digestion is now available via our national partner Petco, you can order it here.
Goodness for Indoor Cats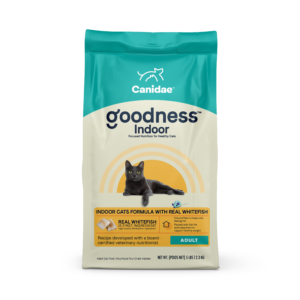 While their ancestors were always out on the prowl, many cats spend the majority of their lives indoors. If your cat is a homebody, it's worth checking out Goodness for Indoor Cats. Packed with natural fiber and real whitefish, this recipe provides quality protein to support healthy indoor cats.
Goodness for Joints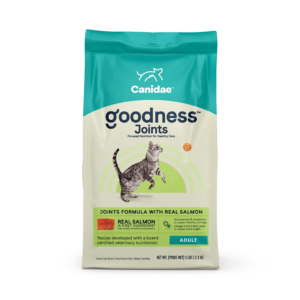 Does your cat need a bit of support? Goodness for Joints is made with real salmon as the first ingredient and includes glucosamine, chondroitin sulfate and calcium — which are all proven to support healthy joints.
Goodness for Skin & Coat
Give your cat the healthiest skin and fur with Goodness for Skin & Coat. Full of Omega 3 and 6 fatty acids, zinc and biotin to support healthy skin and coat, and packing real salmon as the first ingredient, this tasty recipe is sure to go down well with your cat.
Canidae Goodness for Skin & Coat is now available via our national partner Petco, you can order it here.
The sun is always shining for Canidae and we've just updated our packaging to reflect this. Our trademark Goodness is now branded with the glorious rising sun, providing the perfect backdrop for your cat's favorite food. You should already be seeing these latest bags of Goodness phasing into stores now.

Canidae Balanced Bowl

Do you ever look down at your cat while you're preparing dinner, catching the look on their face as they inhale the aromas coming from your delicious home cooking? Feeding a cat "human food" comes with its risks, which is why we've developed the perfect solution. Canidae Balanced Bowl offers a delicious line of recipes inspired by everyday meals pet parents cook in the kitchen, so pet and parent can both enjoy a thoroughly satisfying meal.
Balanced Bowl is made with chunks of high-quality real fish or poultry as the first ingredient and supplemented with a delicious gravy and vegetables like carrots, sweet potatoes and pumpkin. It's formulated without corn, wheat, soy, and carrageenan — a potentially harmful extract from red seaweed.
Each recipe is crafted with enticing flavors that any cat is bound to love. You can use Balanced Bowl as a complete meal or as a topper if you prefer dry kibble to form the bulk of your cat's diet.
We've also updated the Balanced Bowl packaging with our trademark sun balancing on the horizon. You'll see this update in stores around May.
Canidae Balanced Bowl is available via our national partner Petco:
Canidae Pure
Dry
For a limited-ingredient diet, there's no better choice than Canidae's Pure line of recipes. And now Pure is better than ever: We've just optimized and upgraded the nutritional content with a new vitamin and mineral blend, plus we've improved the natural flavor. Focusing on gentle digestion, Pure has real meat as the first ingredient and is also grain-free.
Our delicious recipes keep things as simple as possible: Our Premium Recipe with Real Chicken and Premium Recipe with Real Salmon only have seven key ingredients and our Healthy Weight Premium Recipe with Real Tuna only has nine.
These updated recipes (along with updated packaging, of course!) are phasing into stores right now.
Our good friends at Petco are stocking them all, so make sure to put your order in:
Wet
Does your cat want more of Canidae Adore? Well, there's no need to worry — Adore still lives on but we've rebranded it as Canidae Pure; it's a new design but the same great canned food your cat can't get enough of.
Canidae Pure wet keeps the same ethos as its dry counterpart; it's grain-free and always puts real ingredients first, this time with premium broths and real chicken or fish. There are no meat by-products or filler ingredients, artificial flavors, or carrageenan. Pure's sumptuous shreds provide the texture that cats relish.
The good news is that it comes in four specially selected varieties: Pure Goodness with Tuna, Chicken & Whitefish, Pure Goodness with Tuna, Chicken & Mackerel, Pure Goodness with Salmon & Whitefish and Pure Goodness with Sardine & Mackerel.
It'll be Adore no more from early this summer; you should see Pure cans phased in during June and July.
In the meantime, you can purchase Canidae Adore from Petco:
---
No matter how big, small, shy or strange your cat is, we've got the recipe for you. Canidae's recipes are packed full of healthy ingredients and specially formulated to provide your cat with optimal nutrition. But before changing your cat's diet make sure to consult our transitioning guide, and if you have any doubts, contact your veterinarian.
Canidae cat food is developed in partnership with a board-certified veterinary nutritionist. No fillers, no artificial flavors or artificial preservatives, just complete & balanced goodness.
Discuss transitioning your cat to one of Canidae's delicious and healthy recipes today.