Canidae Wants to Transform The Way You Buy Kibble, Delivering Goodness to Pets, People and Planet
Did you know that around 300 million pounds of pet food bags end up in landfills every year?
As part of Canidae's dedication to bringing goodness to pets, people, and our planet, we knew there had to be a solution to this wasteful problem. That solution is the Kibble Refill Station.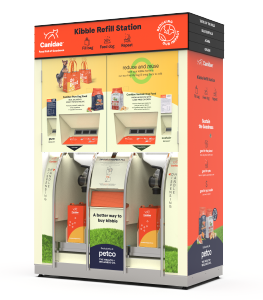 The first of its kind, the station is a new, eco-friendly program that enables you, the pet parent, to buy kibble through a self-serve merchandiser, using reusable kibble bags to eliminate the need for packaging.
The station allows you to fill up on Canidae's premium recipes using a reusable bag, eliminating plastic waste and allowing you to buy as much, or as little, kibble as you want.
The Kibble Refill Station contains premium formulas from Canidae's grain-free Pure and responsibly-sourced Sustain product lines. It is an important step in our mission to create a more sustainable world of goodness for pets, people, and our planet.
How it came about...
In 2021 Canidae launched a new line of sustainable pet food called Sustain, made with responsibly-sourced proteins and packaged in bags made with 40% post-consumer recycled materials, the highest in the industry. While this is a great step in our mission to reduce our carbon footprint, we knew we could take it a step further to find a solution to fully eliminate plastic waste.
So, we turned to our retail partner Petco because of their dedication to shaping a more sustainable future for pets and pet parents. They understand that the health and wellness of pet parents are very much connected to the health of our planet.
In 2020, Petco eliminated more than 3.2 million single-use plastic bags in owned brands and they have committed to increasing their assortment of sustainable products to 50% by the end of 2025.
As a pet food brand paving the way in the sustainable space, it made sense for Canidae to align itself with a retailer equally aligned to these values.
How it works
At select Petco stores in California, you can pick up a reusable bag from your local Petco.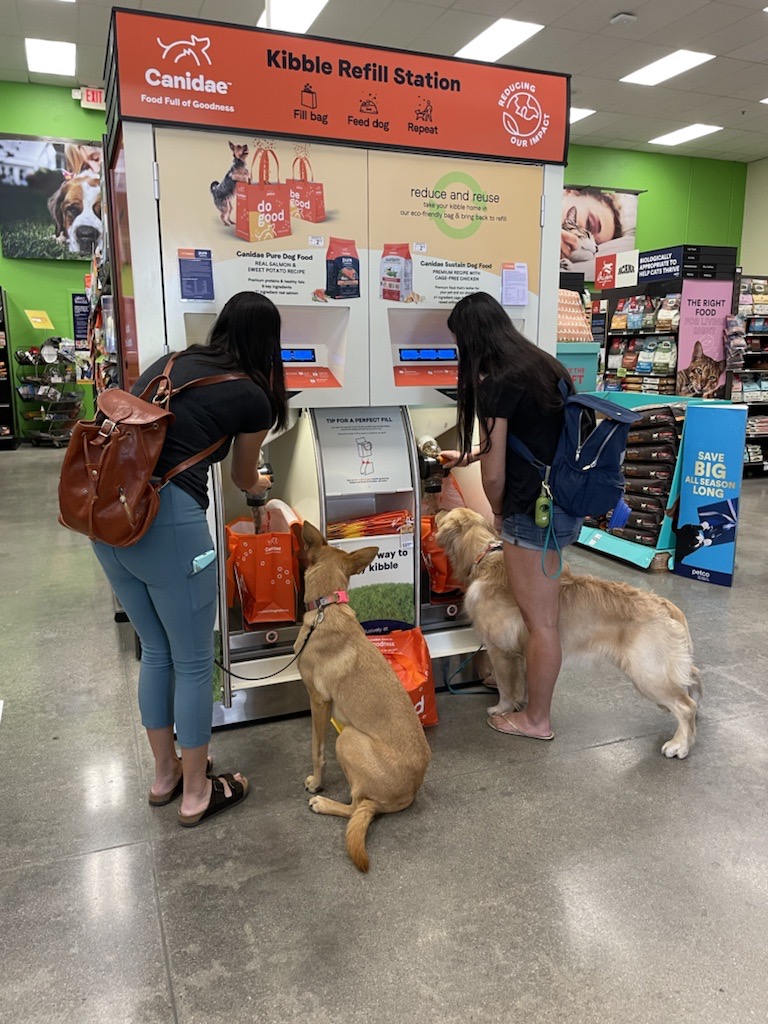 With the Kibble Refill Station, the pet parent can choose between two of Canidae's premium recipes: Canidae Pure Salmon and Sweet Potato, made with premium proteins, and Canidae Sustain Cage-Free Chicken, made with responsibly-sourced chicken better for your pet and the planet.
Follow the instructions on the keypad to fill up your 25 lb bag with as much or as little kibble as you need. You pay $2.75/lb, which saves money and waste. Print your receipt and pay at the cash register.
When you're ready for your next bag of food, bring your reusable bag to Petco to fill up again.
It's that simple!
Where is it launching?
Canidae has launched the Kibble Refill Station at exclusive stores in Southern California.
Visit Petco's Burbank Store in Los Angeles
Visit Petco's Pasadena Store in Los Angeles
Visit Petco's Carmel Mountain Store in San Diego
Visit Petco's Mira Mesa Store in San Diego
Visit Petco's Sports Arena Store in San Diego
Stay tuned for more store launches in 2022. Soon there will be a Kibble Refill Station near you. Keen to get one at your local Petco, email us